The Benefits of Professional Rug Cleaning Services
Rugs can make any home feel cosier, particularly during winter. There are moments when nothing compares to the comfort of reclining on a rugged floor right in front of the fireplace while holding a cup of cocoa. Except maybe when the rug is not quite clean. Vacuuming is sufficient to remove particles and dirt from their rug. Lack of care and attention to several issue areas causes a buildup of dust and contaminants that can cause allergies and asthma. Without thorough professional rug cleaning, toxins and impurities can get embedded in the rug, germs can spread and attract allergens, putting you and your family at health risk. Expert rug cleaning services can be useful in this situation. In this blog post, we'll examine the benefits of professional rug cleaning services. This can help you to decide the good cleaning care you may choose for your rugs.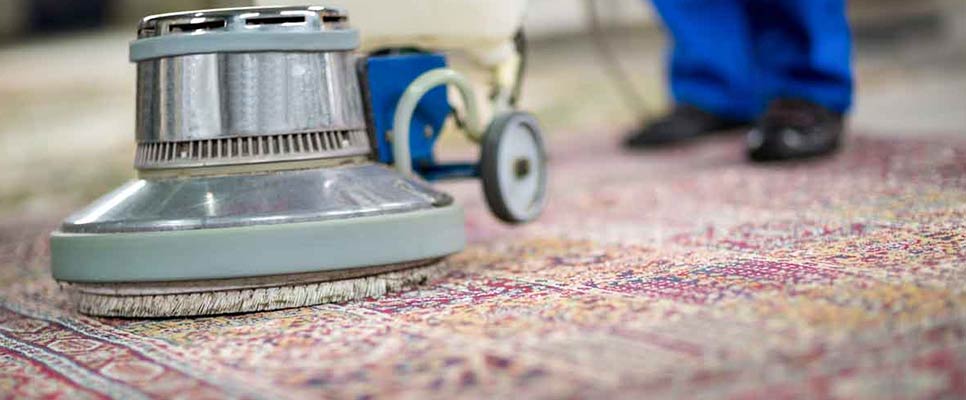 Benefits of Professional Rug Cleaning
Keeps your rug looking new and extends its lifespan: Rugs take a little bit of hitting from the everyday, constant foot traffic over them. The rug eventually develops dirt, dust, and filth established in its fibres, giving it a lifeless and dull appearance. Don't you wish for the appearance of your home's newly placed rug? Well, it is undoubtedly one of the benefits of professional rug cleaning services. While regular vacuuming is necessary to remove surface filth, expert steam cleaning will go into the rug more deeply to remove the grime and particle buildup that is left behind. Additionally, the expert rug cleaning services include sanitising and fibre-freshening chemicals for the rug.
Removes stains from rug: Have you ever attempted to remove a stain from a rug on your own? You believe it to be gone, yet a couple of weeks later, a filthy patch remains that irritates you each time you pass it. Yes, there is no definite stain mark, but it is also not particularly clean. If not picked correctly, homemade or common cleaning solutions can permanently damage or even change the colour of the rug. Additionally, if you don't notice that accident right away, it could absorb into the underlying and cause future stains. Always use a fresh paper towel to quickly wipe up any spills or messes, and only then should you think about hiring a professional. The fact that a skilled specialist is familiar with the various rug fibres is another advantage of professional rug cleaning. Due to their knowledge, they are aware of the appropriate pre-treatments for steam cleaning. Stubborn stains like coffee spills, alcohol, body fluids, dirt, dirty paws, and various other pet stains can be removed using several techniques.
Removes Any Remains That the Rental Rug Cleaner May Leave: Maybe you're one of those who believes a compromise is possible. Since you don't want to spend a lot of money on professional rug cleaning services, you choose to use one of those home or rental rug cleaning machines. Do you, however, really save money? Do those home appliances outperform a truck-mounted steam cleaner that uses potent, high-temperature water extraction? Some home rug cleaners accidentally leave leftovers from the cleaning solutions they suggest you use. Therefore, it will add to the previously mentioned soiled areas. They might therefore be a temporary solution, but don't you want to be sure your rugs are actually clean? You'll probably need to treat the same stains frequently if you keep using that DIY cleaning solution, which will gradually wear down your rugs.
Removes Dirt from High Traffic Areas: Have you noticed that in rugged areas with high foot activity, certain paths have a darker colour? Areas like stairwells, hallways, and even just the spot where you place your feet in front of your favourite couch are more used. The uniform colour of those ruined lanes can be restored with the help of professional rug cleaning. That, of course, presupposes the rug is filthy rather than just merely ageing and thin. The worn-out rug will sadly not be able to be saved by steam cleaning.
Eliminates odours and mustiness: Pet mishaps and drink spills can leave rugs smelling strongly of must and other unpleasant odours. Pee on the rug is one problem. For example, coffee has a distinct smell that is good when it is new but unpleasant and challenging to eliminate if it has soaked deeply into the rug. With the use of specialised sanitising chemicals supplied by expert Rug Cleaning Services, odours can be eradicated. Many of these products have no aftertaste after use.
Saves effort and time: Thoroughly cleaning a rug may be a lengthy and laborious operation, especially if you don't have the right tools and knowledge. You can save a lot of time and work by hiring experts. Professional rug cleaners can effectively clean rugs using the proper equipment, skills, and experience, freeing you up to concentrate on other crucial duties.
Expertise and Convenience: By offering door-to-door services, professional rug cleaning services provide convenience. You can arrange for them to come and pick up the rugs at a convenient time and return them to you after washing. They have the knowledge and experience to handle various rug varieties, including sensitive and antique rugs, making sure that each rug receives the proper care and attention. One more advantage of having your rug cleaned is that it will save you significant time and effort. A skilled rug cleaner uses the most up-to-date tools and can complete the job faster and more effectively.
Conclusion:
All the benefits of professional rug cleaning services are known to you. Investing in skilled rug cleaning services has several advantages, including extending the life of your rugs, eliminating allergens and bacteria, effectively removing stains, maintaining rug attractiveness, saving time and effort, and taking advantage of professional cleaners' convenience and experience. By leaving your rugs in the hands of experts, you can keep your home tidy and healthy while making sure your rugs last for many years to come. In light of the advantages of rug cleaning outlined above, we suggest getting your rugs cleaned by a professional at least once a year. Others, however, would prefer to do it regularly to match certain festivals and seasons. However, routine expert Rug Cleaning Services will extend the life of your rug, improve its appearance, and encourage healthier air quality.